TERRATAG Exhibit!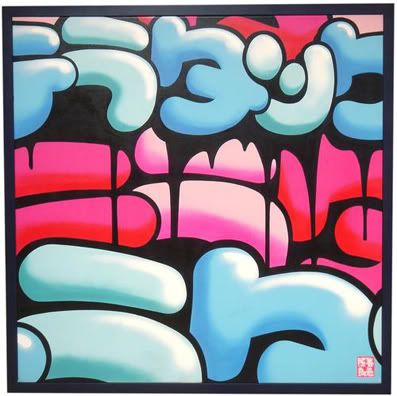 Now there are many peeps who mix Robots, Manga and Grafitti together but few do it so amazingly like TERRATAG. Met this lovely lad at an exhibition in London a couple of years ago where we both exhibited and I am a fan since. So come down to carzyhipcoolurban Dragon Bar on 4.1. to check out his work and mebbe snatch a free T Shirt!
TERRATAG presents Ukiyo Graff
The exhibition will be a presentation of work that is an interplay between Japanese Ukiyo-e painting and Graffiti.
Working in aerosol, marker pens, acrylic paint and gold leaf the work will be a storm of colour and tsunami of pattern.
Free booze from our sponsor Tiger Beer and, for the first 20 people to arrive, Terratag T-shirts.
Plus, a treat for your ears.... All the way from Japan - Scratch DJ Haruka.
4th April 2006.
Dragon Bar, 5 Leonard Street, London.
7pm onwards.
This will be good :D
TERRATAG
TERRAS FOTOLOG