Here comes the Kuns!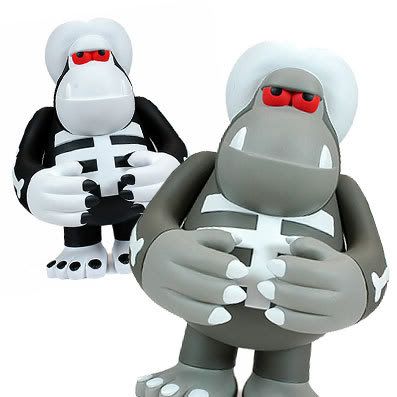 Dropped today for Gold members at the Amos online store. Now, this isn't the most pretty figure ever, still this mutant will grow on a lot of people over time. Only 160 pieces of each colorway available in good ol' Europe.
From Amos:
For many years Amos have been friends with Japanese toy makers, Bounty Hunter. The friendship dates back to the days when BxH helped Silas create the original Martin figure, the very first James Jarvis figure, released in 1998.
Bounty Hunter kingpin Hikaru and Waterman bonded over their love of punk rock, in particular the Third Wave of UK bands such as Discharge. So when it became time to celebrate 10 years of making toys, who better to ask than the original rockers of the modern vinyl toy revolution. And thanks to former Discharge drummer Garry Maloney, the deal between Amos and BxH was cemented through the exchange of original band memorabilia.
We celebrated our ten years of toy making by combining the two single most iconic characters from each company. Bounty Hunter's Skull Kun, and Amos' King Ken. The result is King Kun with one colourway to represent the punk rock attitude of Hikaru, and the other a homage to Jarvis's original King Ken.
Labels: Amos, bounty hunter, James Jarvis, Toys