HIDEHITO WORLD Exhibition @ Best Shop Berlin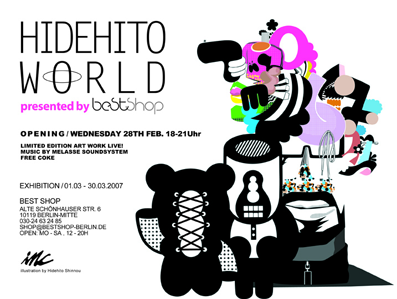 an evening with HIDEHITO drawing live
Music by Melasse Soundsystem
and free Coke
Best Shop dez:
"Hidehito Shinnous works with different elements from typical Japanese lifestyle magazines.
Surfaces from media, advertising, fashion, sneakers and cartoons are mixed in hybrid forms. Shinnou deconstructs
and reconstructs in an individual style independent of Japanese fine arts influences as for example Murakami. There's an almost floating originality in the works that spans from plain and ironic sneaker motives to random collections of bruised forms that are remote resemblance to organic forms.
The figurative drawing style is a reduced minimalism reflecting on the chaotic daily scenes of in hectic Japanese modernity. The playful universes are twisted with much wit and humour to unconventional zapping over pop-culture, modernity, consumerism and hedonism. His improvisational and playing style contains a reminiscence of Basqiat's mixing of
deconstructed elements but instead of referencing modern life as deconstructed abstraction
Shinnou rather proceeds with the dilution of colour and orientation through creation of the complex new characters in his own universe: What one could call the "Hidehito world".
The twisted characters become metaphors for the modern individual caught between fragmentation,
sampling of styles and nature as the origin: A hybrid language that bears of all the elements of the life in the technological age. "
The exhibition is his first solo exhibition in Europe.
OPENING EVENING 28th FEBRUARY 2007, 18-21h
EXHIBITION RUNS 01.03. - 30.03.2007
BEST SHOP
ALTE SCHÖNHAUSER STR.6
10119 BERLIN-MITTE
030-24 63 24 85
SHOP@BESTSHOP-BERLIN.DE
OPEN: MO-SA, 12-20h