Phil Frost Exhibit 20th October - 18th November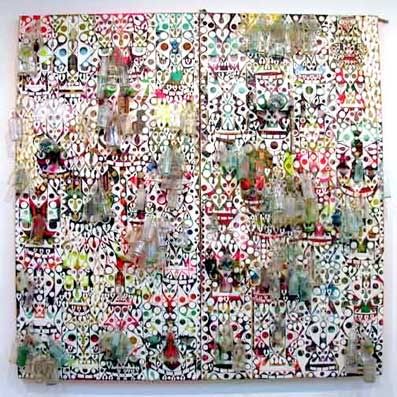 One of the big boys of street/urban/graf/whatever art is coming down to London town. Headz will know him from countless dope artworks, DJ Shadows Pre Emptive Strike LP or / and the piece he did outside Slam City Skates. Anyway... will be dope!
This is what the official sources have to say:
"Phil Frost is an artist from New York who combines the rawness of the
street with an elegant aesthetic.
When viewing his work, you are immediately struck by the frenetic rhythm
of the repetitive use of his personal language of shapes and letters
rendered in his trademark white correction fluid, then a moment later, you
are confronted with a dichotomy; the painting assumes a subtle, ethereal
quality as you get drawn into the finer detail and his seductive choice of
medium; sheet music, comics, dress patterns, leaves, paper, sticks,
feathers, ink - then whilst you are trying to unravel these overlapping
layers, you are negotiating the stark white shapes/ signs and symbols -
which take you back to the initial rhythm....
Phil Frost is a sophisticated self taught artist who served his
apprenticeship during the 90s creating elaborate installations on the
street of New York. Locations were scouted and measured before he
painstakingly created the artwork in his studio. The work, which could
consist of many panels, were then taken to the selected site under cover of
darkness. His notoriety led to a PBS documentary being made about his work
in 1994 when he was only 21, and his transition to galleries followed
rapidly. He has continued to move back and forth between culture and
counter-culture, operating both inside and outside the system, and has
exhibited widely in both commercial galleries and museum spaces in USA,
Europe and Far East.
At the end of last year Phil Frost's work was exhibited alongside artists
such as Picasso, Dalí, Magritte and Warhol in the acclaimed exhibition
"Looking at Words: The Formal Presence of Text in Modern and Contemporary
Works on Paper' at the Andrea Rosen Gallery, New York. The exhibition of
works on paper traced the history of the presence of the written word in
works of art during the last century.
As with so many of these counter-culture icons, Phil Frost has been
commissioned for commercial collaborations including album covers for Sick
Of It All. DJ Shadow, designs for realmadHECTIC and MASTERPIECE clothing
and Absolut raspberry vodka, and most recently a pair of skateboard decks
for SHUT, and high performance BMX parts. As something of a cult figure for
skateboarders it is fitting that Phil Frost's most enduring piece on the
London streets is outside Slam City Skates in Covent Garden's Neal Street.
He originally painted it by invitation in 1996, but has added to it
whenever he is in London."
ELMS LESTERS PAINTING ROOMS
1-3-5 Flitcroft Street
London WC2H 8DH
SEEING IS BELIEVING
a one man show by
PHIL FROST
open to the public from 20th October - 18th November
Monday - Saturday 12.00 - 6.00 pm
open 'til 9.00 pm Thursdays
Admission Free
Nearest tube: Tottenham Court Road