Word to Mother exhibit recap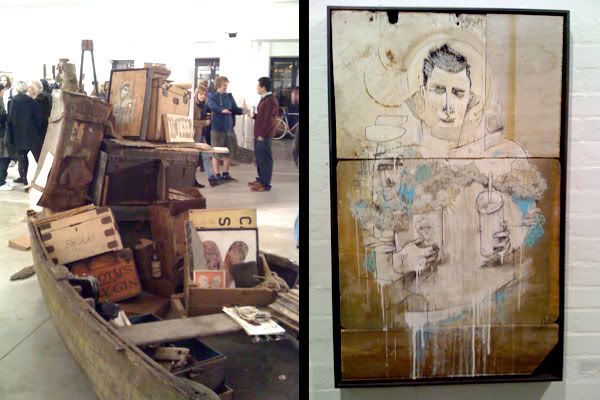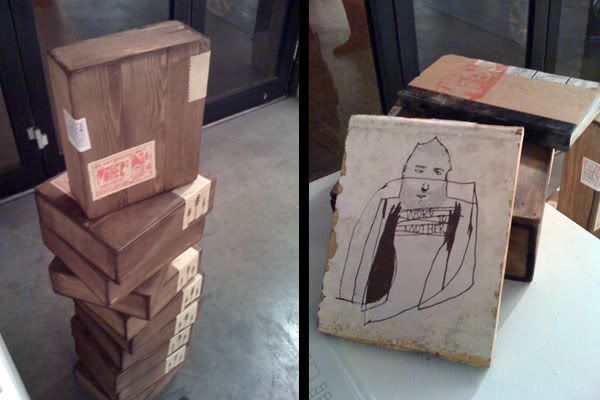 Just thought I post up some pics from the current exhibit at Stolenspace by Word to Mother. I really like what D*Face is doing with his gallery, putting the art back into Streetart. There is just too much crap artwork out there at the moment ( *cough* BAZART*cough* ) so Stolenspace is going the right direction by pushing more the fine art side of things.
Although I think that WTM work is not crazy original, he is amazing in art directing his pictures and puzzling together his canvases by combining everything from tree trunks to rusty metal.
In addition to his paintings WTM had 25 handmade wooden boxes for sale for 450£ a pop, replacing the regular artist screenprints that are normally on sale at Stolenspace private views. Nice touch!
It's pretty obvious that WTM is on the come up thanks to elevating his paintings to higher "fine arty" spheres using a wide array of techniques and materials, so keep your eyes peeled...
Read more here
Stolenspace gallery
Labels: exhibition, Stolenspace, Streetart, Word to mother