Featured: Loki Clothing

With their Autumn/Winter range in the shops now, some new stockists, and more pieces to come including girls' tees/sweats & the cut 'n' sew all-over printed Cassette hoody it's time to drag Will Kemp and Rufus Exton out of the shadow of their Loki fashion empire for a quick Q & A...
*EXCLUSIVE!*
... holla!
First things first: What's the story behind Loki and how does your creative process work...
The two of us were at school together and met up back in London in our mid-twenties. Rufus had just got fired from his job for reasons which we legally cannot go into, but suffice to say it's why he's now known as Slappy. Will had been working in
the fashion industry where he'd learnt a lot about the T shirt game, or at least how to fold them. We named Loki after the Norse God of mischief. We don't have a company motto yet but we're trying to figure out the Latin for "For c*nts, by c*nts".
In terms of the creative process we come up with a load of ideas, then try and think of a theme which loosely connects them.
Will does the designs, Rufus rejects half of them because no-one apart from Will would find them remotely amusing.
You had a fantastic reception when you launched your first collection last year. Overall, is it hard for a new small independent label to break into the market?
No…yes…kind of…
Tell us something about your new collection...
The badge design is being featured in an upcoming book by Gavin Lucas and Creative Review – it'll be available at Magma
books. It's about badges.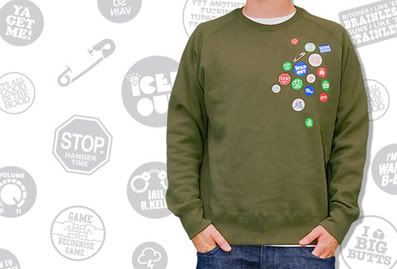 The theme for this season is music. The Tupac zombie all-over print failed to make the grade, but had a good reception this Halloween…maybe if there's enough demand we'll resurrect that dead homie.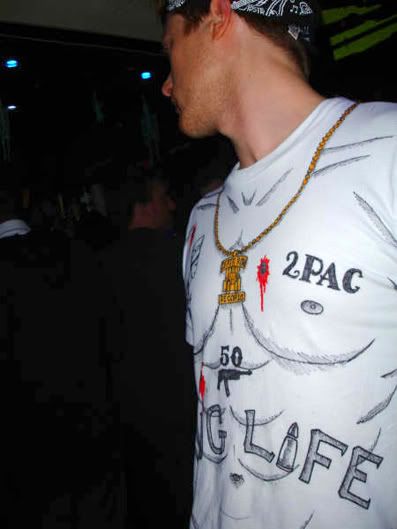 Word on the Street is that Will has quite an unhealthy obsession with David Hasselhoff. Does this reflect on the brand? Any secret collabos in the pipeline?
We both respect David as an artist and there have been subtle references to his oeuvre in both seasons. Everyone knows that David single-handedly brought down the Berlin Wall. In terms of collabs we have sourced a range of Hasselhoff x Romika
moccasins which we are looking at retroing for 2007.
That would be amazing! What do you guys think about the current state of streetwear? There is a lot of bitching going on about hype vs quality...
Don't want to add to the bitching but there seems to be a little too much reliance on the streetwear mathematics formula of:
[(Star Wars character x sneaker colourway) + old school hip hop reference] x Google image search ÷ Photoshop filter = hype
With a new webpage live as we speak Loki surely is taking a shot at global fashion world domination. What are the future plans?
We've been putting a lot of time into building up the right list of stockists in the UK and we're now pushing out into Europe with Cali Roots, Solebox and Starcow. We're expanding the range – all the new pieces will be up on the website as and when.
Any final thoughts, shout outs or insults?
Definite thanks to Bond for the leg-up and their continuing support. Shout outs to Billy Banjax and North London's best wrestling duo Team Beautiful.
Final thoughts? Jail R Kelly.
WORD!!!!
Keep the eyes peeled for future Loki drops... more stuff can be seen at their sparkling new website:
http://www.lokiclothing.co.uk